'Outstanding'
by the CQC
Our service is judged 'Outstanding' in all five categories for being safe, effective, caring, well-led and responsive. It's the highest possible rating and we're the only dedicated live-in care provider to achieve it.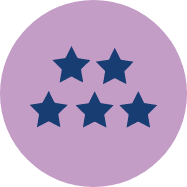 Given 5/5 by
our clients
We ask our clients to provide feedback on the service they receive from us, using websites like Trustpilot, where we consistently score 5 out of 5 stars.
Awarded
by our peers
We're proud to have received more prestigious awards from our industry than any other homecare provider, a true sign of our commitment to innovation and the highest quality care.
Talk to us about your care needs
To talk about your care needs, contact one of our friendly advisors. Calls from landlines are free.
Live-in care services
Offering live-in care and companionship at a time when they're needed most, our 1-2-1 service is tailored entirely to your needs, while also providing complete peace of mind for your family. A genuine alternative to care homes, it offers the support you need to continue enjoying an independent life at home.
Our care is highly adaptive, evolving as your needs change, but always remaining compassionate and dignified, whether you need help with daily activities, personal care or with managing a complex condition like dementia.
Live-in carer jobs
Would you like to be a live-in carer for the UK's most awarded provider of homecare services? Join us and you'll benefit from unrivalled support, with 24/7 access to your regional team, the latest technology and a dedicated online carer community.
We'll give you everything you need to provide exceptional care, including industry-leading training and professional development, secure placements for peace of mind, flexible rota patterns to suit your lifestyle and a highly desirable employment package.
Our teams are expert in caring for a range of conditions including dementia and stroke.
Ongoing access to emotional and practical support, including a leading dementia nurse.
Continual monitoring of our services to ensure you receive an exceptional level of care
Doing more for your peace of mind
Wide range of services
Homecare from The Good Care Group is flexible and professional, with a full range of services and homecare packages supporting a variety of conditions. We directly employ our carers and train them to the highest standards, matching them to you based on shared interests, lifestyles and personality.
Fully regulated
The Good Care Group is fully regulated by the Care Quality Commission and the only dedicated live-in care provider to receive 'Outstanding' ratings across the board – a reflection of the professional, personalised and compassionate care we provide.
The Good Care Group is part of a family of home care brands in the UK, including Prestige Nursing & Care, Oxford Aunts and Comfort Keepers (Ireland). Through this leading family of brands, The Good Care Group can offer expert, highly personalised hourly home care services and complex, nurse-led care at home through Prestige Nursing & Care to generations of people, in addition to its established live-in care offering.
Whether it is a baby born with a degenerative condition, a young child with spina bifida, an adolescent who has acquired a brain injury or an older person living with dementia, through to care of those who need palliative / end-of-life care – we provide the right care at the right time, right at home – for all of life.